The Wilderness FAQ's
How did you come up with your name? In the bible, Jesus was led by The Spirit of God into THE WILDERNESS to be strengthened and prepared for His ministry. The children of Israel wandered through THE WILDERNESS and grew in their dependence on and understanding of God as they made their journey to their promised land. King David fled to THE WILDERNESS to take refuge from his enemies and to be still with The Lord. THE WILDERNESS, in the bible, has been a symbol of intimacy, refuge, preparation and sanctification, and it is this symbolism that led us to name our family friendly campground THE WILDERNESS. It is our desire that families and individual campers alike would be able to retreat to THE WILDERNESS to foster intimacy within their families, find a time of refuge from their stresses and develop a deeper connection with their savior.
How much does it cost? Our family friendly camping is FEE FREE. We do not charge a set fee for people to utilize our campground. We consider our campground an extension of our overall ministry and we trust God for all of the funds to maintain our grounds. We rely on a LOVE OFFERING, donation system when it comes to the upkeep and future development of our campground. With that said, one thing we do request is that every group camping with us bring a trash bag to thoroughly clean their site upon departure and any other trash they may find on the grounds. Also, we do our best to keep our restrooms stocked with toilet paper, but we do suggest campers to bring a roll or two just in case :-)
Do we have to register to camp? Yes. Once you register, you will receive an email confirming your dates, campsite and a number key for the locks on our shower/restroom facility. You will also be asked verify that you have read and agree upon our campground rules and to complete the appropriate waivers/letters of permission required. ANYONE CAMPING WITHOUT PROPER REGISTRATION WILL BE CONSIDER TRESPASSING.
What do you mean by 'Family Friendly' camping? THE WILDERNESS has been structured to be a fun place for people to be able to camp solo or to camp with the smallest of children, without having to worry about profane speech or a party atmosphere. Our campground is a DRUG FREE, SMOKE FREE and ALCOHOL FREE environment. In addition, we ask our campers to respect a 'quiet time' between the hours of 9pm and 8am. This does not mean campers can't enjoy company with one another during our quiet time, but we do ask that any music be turned off and voices be kept at a respectful level.
Is there an age limit? You must be 18 or older to camp at The Wilderness. Anyone under 18 years of age, must be accompanied by their parent or guardian. A family bringing children who are not their own, under the age of 18, can do so with written permission from their parent or guardian.
Are pets allowed at The Wilderness? We have a no pet policy. The only exception made on this policy is for service animals. Written proof is required for this exception.
Is there water and electricity at the campsites? Our campsites are all primitive sites. This means that there is no water or electricity at the campsites. We do, however, allow quiet technology generators or solar power systems to be brought in. We do have electricity at the picnic area, as well as water at the shower/restroom facility.
Are there showers and toilets? We have constructed a shower/restroom facility on site. We have a men's and women's facility, each with 3 showers and two toilets. Please bring your own toiletries. We try very hard to stock and maintain our facility, however, it would be a good idea for you to bring a roll or two of toilet paper with you. Also, please help us by thoroughly cleaning up after yourself and your family. Lastly, please do not prop open the facility doors or let anyone into the facility who does not have a number key code.
Is there a picnic area? Yes. Our picnic area has multiple picnic tables and BBQ grills. We also have electrical plugs and lights for night time eating and fellowship. We do not have cooking utensils or grill brushes. Please clean up any food or trash after using the picnic area. Please turn off the lights, if you are the last one leaving the picnic area at night.
Are there other activities? As of now, we have a horseshoe pit (bring your own horseshoes), 2 bucket washer games, 4 tether-ball poles, a GaGa ball it (bring a ball), an outdoor dodgeball arena (bring your own dodgeballs and a kickball field (bring your own equipment). In addition, we are looking to develop a fishing pond and a low ropes elements course. Feel free to bring your own board games, cards, dominoes or any other portable activities you may have. You might find a family willing to join you for some good ole' fashion fun!!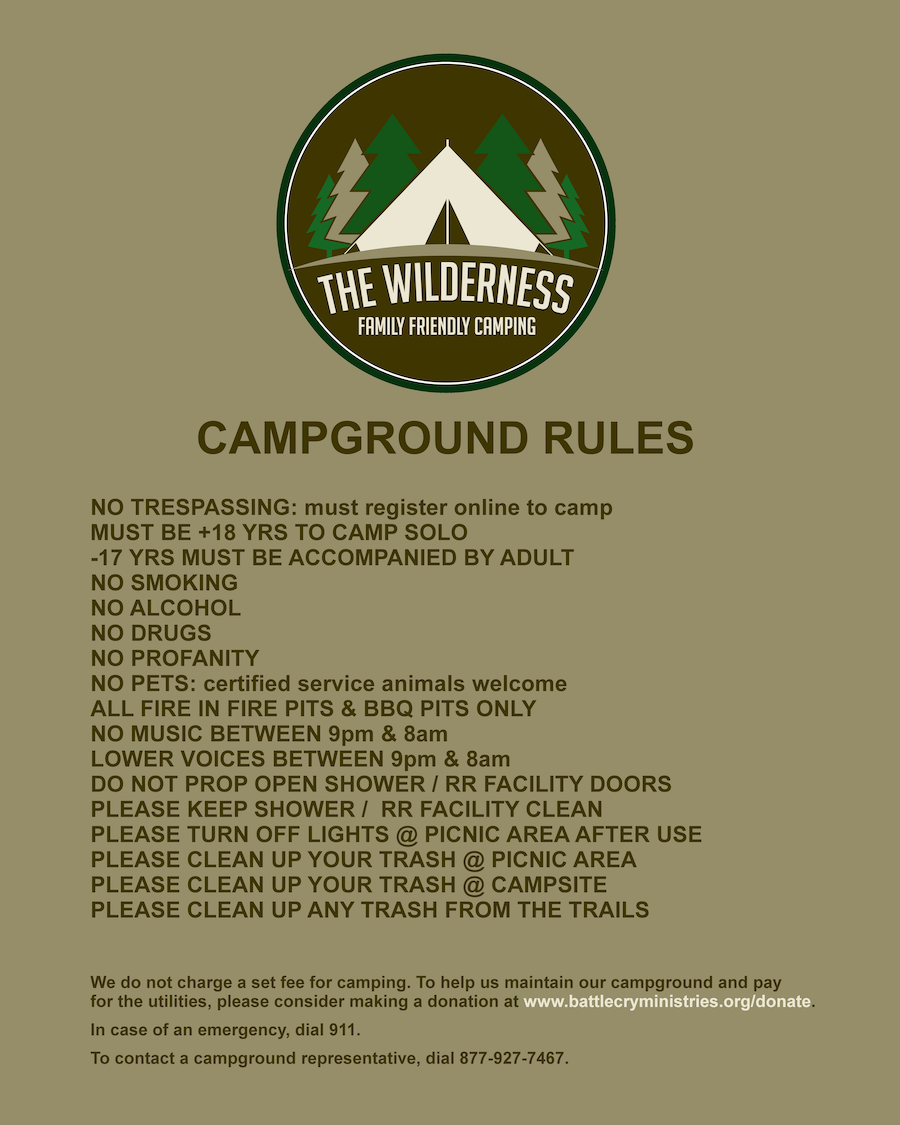 Check-in Instructions
Park in the Servanthood Fellowship parking lot
Check in at The Wilderness Campground Facebook page, so we will know you are on site
If needed, you may use our carts to assist your load in process

Located on the RR/Shower facility wall adjacent to the picnic area
Please return for other campers to use after you

Make sure you are familiar with and agree to our camp rules
Study The Wilderness map to locate your campsite(s)
Ensure the restroom keypad code works (you will receive this in an email before your camp date)

PLEASE KEEP THE FACILITY LOCKED AND DO NOT OPEN IT FOR ANYONE WITHOUT THE CODE

Rake leaves or debris away from fire rings
Check-out Instructions
Pour water over your fire
Clean up your campsite(s)
If trash can is half full, please tie it up and take it to the dumpster
Ensure that the trash lid is tighly secured on trash can
Pick up any trash you may find throughout the campground as you load out
Return any of our carts you may use during your load out process
Ensure that the picnic area lights have been turned off
Give us a shout out by sharing our Facebook Page to your profile with a super cool write up
COME BACK SOON!!!