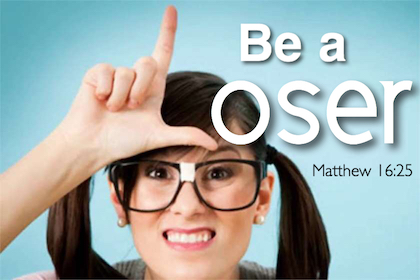 In a culture where we are constantly being spurred to win, to be first and to become the best, it is easy to fixate on self-centeredness and obsess with our goals and our dreams. This attitude of self preservation is nothing new. People have been driven to be 'number one' from the beginning of time. After all, this is what led to the fall of man and the original sin of pride in the garden. Man rebelled against God. Why? Becuase they were'nt satisfied with being second. They wanted to be like God. They wanted equality with God. That same self driven attitude has plagued us ever since and has made a mess of everything. Jesus, who did not consider equality with God, came to set us free from the pride of self. How did He do it? By losing His life on the cross for something that The Father considered beautiful and worth it, us! So, how do we follow that? We willingly accept His invitation to be a LOSER too. How bout you? Are you willing to be a loser?
registration
Space is very limited. Spots are distributed on a first come basis @ $90 per person. PLEASE NOTE: your spots ARE NOT locked in until we have recieved a $40 non-refundable deposit per person registered. The cost to attend as part of our serve team is only $40. PLEASE NOTE: we only have 40 spaces available for our serve team, 20 guys and 20 girls. If you have college age students who might be interested in serving on the serve team, please have them contact Kanyon Dobbins.
Registrations WILL NOT be locked in until we have recieved the deposits and payments as indicated above.
Please mail your payment.
Make checks to: BCM
Mail deposit to: Battle Cry Ministries, 6910 Brownbark, Magnolia, TX 77354